Decarcerate Slate: Our Movement Family's Voter Guide for November 7th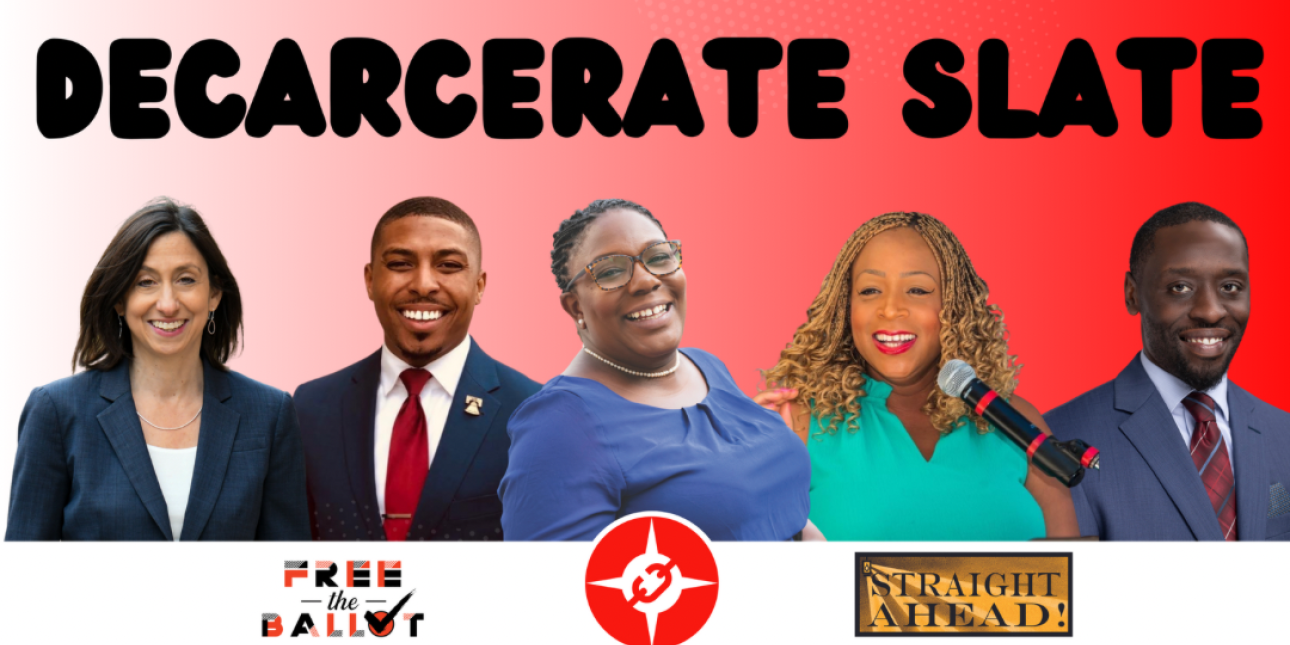 Check out our voter guide with Free The Ballot and Straight Ahead below and share it with your friends, family and neighbors.

As our communities struggle for quality affordable housing, fully resourced public schools, and public safety alternatives to the police like mobile crisis teams, we must show up on Tuesday, November 7th to register our power at the ballot box.
In that vein, we are very excited to stand shoulder to shoulder with three Black progressive candidates running for City Council who have time and time again put themselves on the line––especially when it was difficult––and stood shoulder to shoulder with movements for justice and liberation: Kendra Brooks, Nicolas O'Rourke and Jamie Gauthier. We are also excited to support for City Council-At Large our endorsed candidates Isaiah Thomas and Rue Landau who––day after day––are working hard to make Philly a city that cares for all.
As a service for our communities, we are also making recommendations, particularly in judicial races which have a huge impact on our friends, neighbors, and families. Crucially we are asking the members of our anti-mass incarceration movement family to vote "no" on the retention of the following judges who have shown themselves to be a menace to our communities: Anne Marie Coyle, William Meehan, Paula Patrick, and David C. Shuter.
On Tuesday, November 7th vote for elected officials who will support real solutions for our communities.
Endorsed Candidates
Philadelphia City Council-At Large
First Vote For:
Kendra Brooks (Working Families Party)
Nicolas O'Rourke (Working Families Party)
Then Vote For:
Isaiah Thomas (Democrat)
Rue Landau (Democrat)
Your Next Favorite Democratic Candidate
The Democrats running for City Council are assured to win in majority Democrat Philadelphia. We want to prioritize Nic and Kendra being able to beat the Republicans they are running against.
Philadelphia District Council 3 (West and Southwest Philadelphia)
Jamie Gauthier

Recommendations
Philadelphia Sheriff
No Position - However We Do Not Ever Support or Vote Republican
Philadelphia Register of Wills
No Position - However We Do Not Ever Support or Vote Republican
Philadelphia City Controller
No Position - However We Do Not Ever Support or Vote Republican
Philadelphia City Commissioner
Omar Sabir (Democrat)
Lisa Deeley (Democrat)
Court of Common Pleas First Judicial District
Caroline Turner
Samantha Williams
Kay Yu
Natasha Taylor-Smith
John Padova
Jessica Brown
Tamika Washington
Court of Common Pleas Judicial Retention
Vote No on Anne Marie Coyle
Vote No on Paula Patrick
Municipal Court Judicial Retention
Vote No on William Meehan
Vote No on David C. Shuter
Superior Court Judicial Retention
Vote No on Vic Stabile
Superior Court
Tamika Lane (Democrat)
Jill Beck (Democrat)
Commonwealth Court
Matthew Wolf (Democrat)
Supreme Court
Daniel McCaffery (Democrat––recommendation does not imply endorsement in any way. We are voting defensively against the Republican)
Municipal Court Judge
No positon
Proposed Charter Change Question:
Vote Yes
Should the Philadelphia Home Rule Charter be amended to create an Office for People with Disabilities to coordinate the City's compliance with requirements to provide access for people with disabilities to City services and programs and to otherwise provide for incorporation of the Office into the City government?